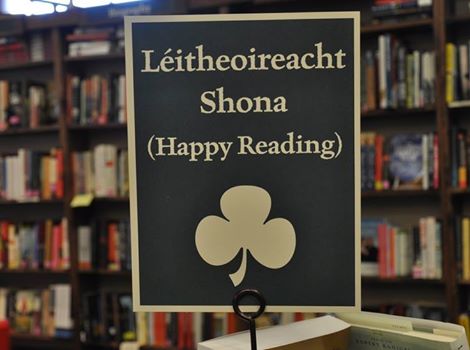 Since today is St. Patrick's Day, I thought I'd suggest some contemporary Irish authors worth reading. The Emerald Isle has blessed the literary world with the talents of Joyce, Wilde, Beckett, Shaw, Synge, Yeats, Swift and many more. Those are tough shoes to fill but, fortunately, the country of St. Patrick continues to produce a steady crop of skilled storytellers.
There are any number of names that come to mind; for example, I'd recommend Anne Enright, Roddy Doyle, and William Trevor. But here are my top three:
Tóibín's work often explores Irish characters moving into unfamiliar cultures, though the plots are fairly simple. He is definitely my favourite living Irish author.
I've reviewed three of Tóibín's novels: The Testament of Mary (December 19, 2015)
Brooklyn (January 21, 2016)
Nora Webster (January 22, 2016).
Donoghue's work often incorporates LGBTQ themes and explores the status and role of women in the modern world. Her novels have alternated between contemporary settings like Room's and historical tales. Frog Music, and her upcoming novel, The Wonder (to be released in September), are both historical fiction. Although Donoghue now lives in Canada, Ireland still claims her as one of its best living writers.
I reviewed Frog Music on October 24, 2015.
Barry is noted for his dense literary writing style and is considered one of Ireland's finest writers.
He has twice been shortlisted for the Man Booker Prize for his novels A Long Long Way (2005) and The Secret Scripture (2008), the latter of which won the 2008 Costa Book of the Year. His 2011 novel On Canaan's Side was longlisted for the Booker.
I reviewed On Canaan's Side on November 15, 2015.